Good evening everyone!
It's been a long, LONG time since we last had some updates and new license announcements huh?
We wanted to wait until we wrapped up the Kinkoi Kickstarter, and now that we've completed that, it's time finally for some updates, and of course, some new license announcements! This will be a long post, so grab a drink and buckle up!

First, let's talk about our current projects and where those are at.
Kinkoi: Golden Loveriche: 100% TL, 100% Edited, Engine Port to Unity in "Housekeeping/bug cleanup". QA: 25%, End of May Release
Clover Days: 100% Translated, 100% Edited, Engine port to Unity in progress, currently implementing e-mote integration. 2021 release.
Hello Lady: 100% Translated, 100% Edited, QA 40%. This is on hold due to still waiting on the JP Programming company to complete their work. No ETA on this at this time.
Melty Moment: TL Update will be added to this post later.
Wow, this list got pretty short, huh? Wait I think I'm missing one… Oh, right! I guess this is a good place to start for today. Dracu Riot, huh.
You guys have been waiting very patiently for a really long time for this game, and we know you want to know what the holdup is. We've seen the comments don't worry. There IS a reason for it, however, and we can finally talk about it now!
The truth is… Dracu Riot is getting a full HD Remaster and re-release in JP as well as in English!
Fortunately, Yuzusoft had the original super high res assets, so we're going to be working on getting the entire game rebuilt from the ground up with high res assets and a new UI. It will be on our Unity engine and receive a total upgrade, including the same features you see in newer Yuzusoft projects, voice bookmarking, and more! Meow is currently working on the Clover Days port, once that is complete, he will begin the work of porting and implementing the new features for Dracu Riot!
Hopefully, this will make it worth the wait for you!
Now, it's time for what you've all been waiting for. We've been teasing you for quite a while in our Discord about the Sekrit Projects™ and it's time again to reveal those to you!
Sekrit Project 1: AKA Ren'ai Karichaimashita AKA Koikari: Love for Hire
A few of you in our Discord have been guessing about Sekrit Project 1 for some time now, and… You were CORRECT!
After the success of Sankaku: Love Triangle Trouble, we are pleased to announce we are currently in the process of translating one of Asa Projects' newer projects, Ren'ai, Karichaimashita, or "Koikari"!
With the fresh English title "Koikari: Love for Hire!"! This one builds on AsaPros experience with comedy and insanity, you (a siscon) take on the job of a "boyfriend/Onii-chan/other for rent" to pay your way through school, and shenanigans ensue!! We hope you are looking forward to it!
Koikari is currently 90% Translated, 69,69% Edited, and will starting QA soon! Translated by the esteemed memetician, Blick Winkel, and edited by the guy with a meme of a name himself, DxS! 18+ Version will be demosaiced.
Visit the productpage: https://koikari.nekonyansoft.com
Sekrit Project 2: AKA Café Stella to Shinigami no Chou AKA Cafe Stella and the Reapers' Butterflies
That's right! We are happy to announce another Yuzusoft project!
This time it's their newest project, Cafe Stella! Yuzusoft brings us another masterpiece of slice of life mixed with plot and incredible art in this story of a Cafe, Grim Reapers, pancakes, coffee, and love!
Currently, 50% Translated and Edited. The translation is by Akerou and Dream, edited by Chuee.
Visit the productpage: https://stella.nekonyansoft.com
Sekrit Project 3: AKA Sugar Style: AKA Sugar Style
You guys got pretty good at this, and quite a few of you guessed this one in our Discord as well!
It's time for another SMEE project, following our release of Making*Lovers last year (has it really been a year already???)
This time around it's about your boy Oribe Kazuki, who has been through a bit of a rough time because of his parents' irresponsible money management. But that's all about to change, as he's about to enter a vocational college for digital music creation! That is until he discovers the dorm he'll be staying at is an all-girls dorm! He's rather unpopular with the residents at first, and you'll follow along with him as he tries to gain their trust.
Featuring SMEE's trademark insane at times comedy and jokes, it's a real blast and we can't wait for you to play it. And as it turns out, you won't have to wait long- Sugar Style will be releasing in just a couple of weeks on April 30th!!!
Currently, 100% Translated, 100% Edited, QA 80%. Translated by MasterofMemes, edited by FredTheBarber. 18+ Version will be demosaiced.
Visit the productpage: https://sugarstyle.nekonyansoft.com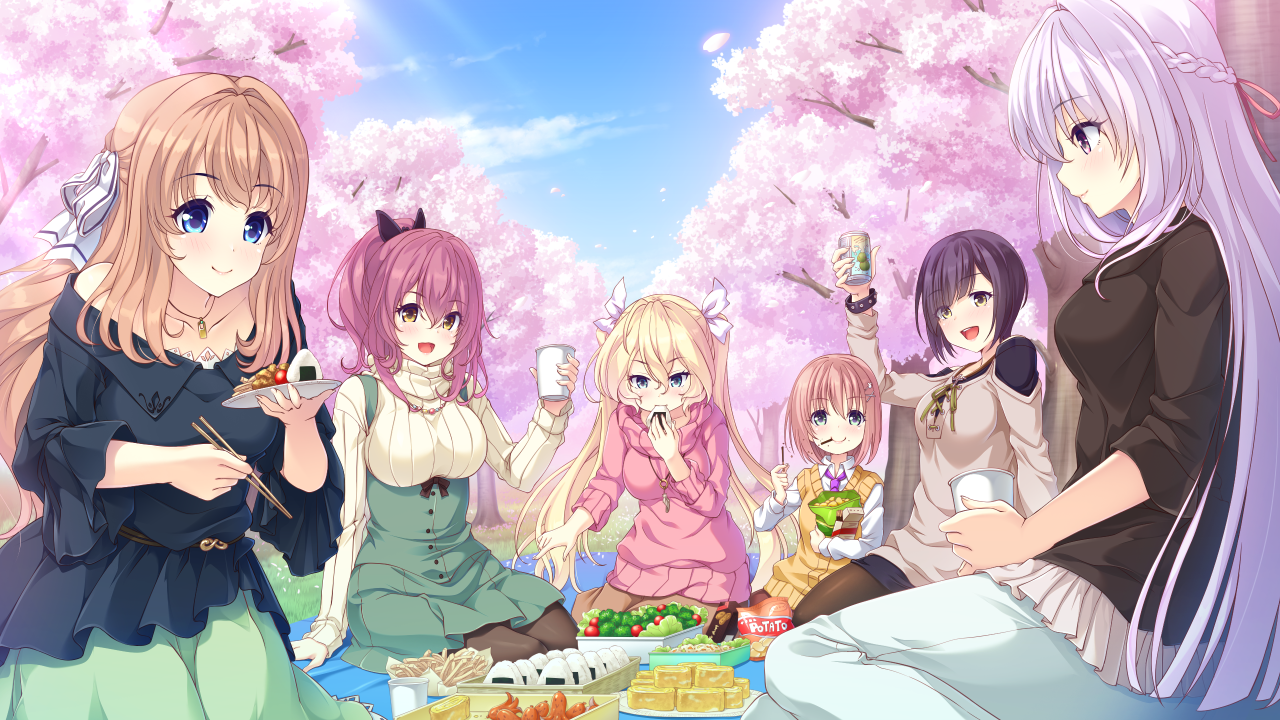 That's our first 3 announcements down! Now we'll have a short intermission and be back in a little bit to post the others!